Back in 2008 at a downhill race at Snowshoe Mtn WV, Shaums March, http://www.usacycling.org/where-are-they-now-chasing-down-shaums-march.htm, was talking about getting a mountain bike coaching company together. He did, and we can now all benefit from it. For years he traveled the country coaching race day clinics under the name Mad March Racing. He also established the IMIC coaches protocol and trained instructors. "In January 2013, IMBA purchased the rights to the International Mountain Bike Instructor Certification (IMIC) from Shaums March, a two-time masters world champion in downhill racing. March joined the IMBA staff in developing the program curriculum and will serve as the ICP's lead instructor trainer." From IMBA.com. IMBA enlisted super shredder/dirt jumper Tammy Donahugh to manage this addition to the business.
(she had been traveling the country with IMBA building Mtb skills parks).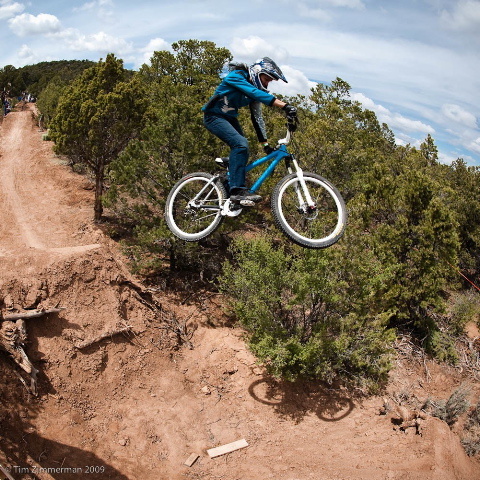 Tammy going big at Ranchstyle
In July of 2013 I completed my certification as an IMIC instructor with Shaums at Mtn Creek resort NJ. March has put together a very demanding 4 day course, which he executed leaving no room for error or oversight, ensuring we went away knowing the material. In addition to cramming as much coaching information into us as possible, he delivered quick and accurate critique of our riding techniques, of which a report was provided to us along with the final test results. It was well worth the investment and I don't know how he does it all.
Shaums holds a student to demonstrate proper body positioning.
One of the biggest factors in the scarcity of mountain bike coaching in America (outside of resorts) is the prohibitive cost of insurance. This course covers that as well. In addition to getting a great coaching manual, I can now buy affordable insurance through IMBA to cover my events.